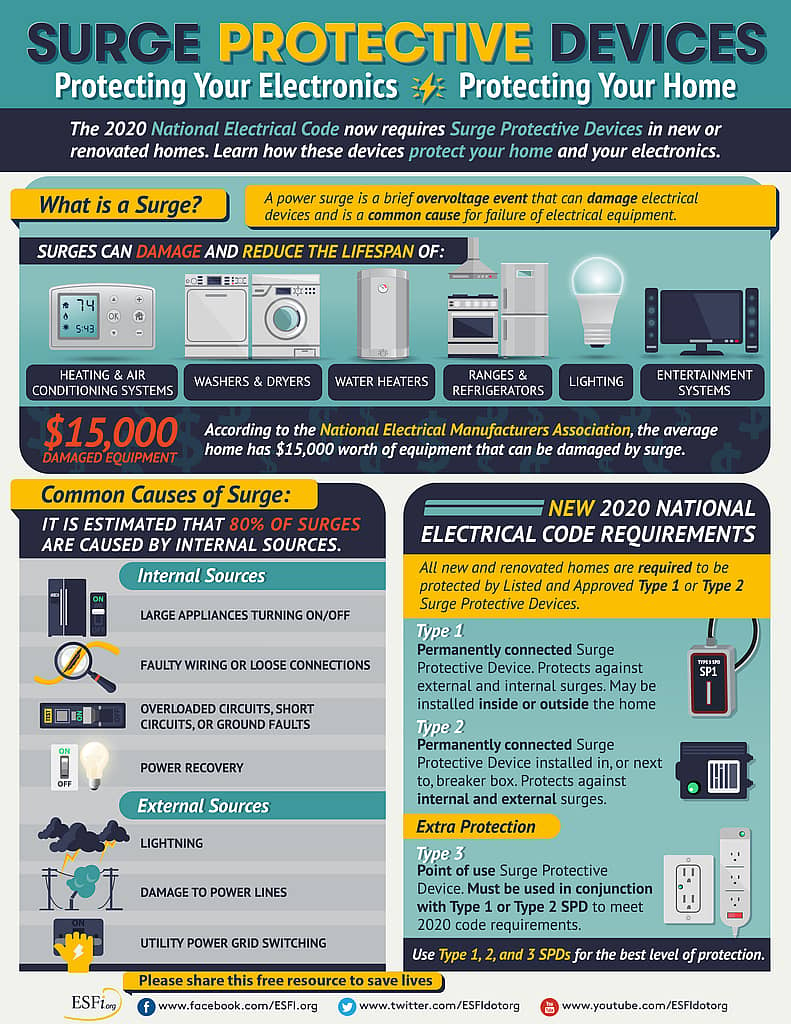 Protecting Your Electronics Protecting Your Home
The 2020 National Electrical Code now requires Surge Protective Devices in new or renovated homes. Learn how these devices protect your home and your electronics.
What is a Surge?
A power surge is a brief overvoltage event that can damage electrical devices and is a common cause for the failure of electrical equipment. Surges can damage and reduce the lifespan of:
Heating and Air Conditioning Systems
Washers and Dryers
Water Heaters
Ranges & Refrigerators
Lighting
Entertainment Systems
According to the National Electrical Manufacturers Association, the average home has $15,000 worth of equipment that can be damaged by surges.
Common Causes of Surge:
It is estimated that 80% of surges are caused by internal sources
Internal Sources:
Large appliances turning on / off
Faulty wiring or loose connections
Overloaded circuits, short circuits, or ground faults
Power recovery
External Sources:
Lightning
Damage to power lines
Utility power grid switching
NEW 2020 National Electrical Code Requirements
All new and renovated homes are required to be protected by Listed and Approved Type 1 or Type 2 Surge Protective Devices.
Type 1:
Permanently connected Surge Protective Device.  Protects against external and internal surges. May be installed inside or outside the home.
Type 2:
Permanently connected Surge Protective Device installed in, or next to, breaker box. Protects again internal or external surges.
Type 3:
Extra protection. Point-of-use Surge Protective Device. Must be used in conjunction with Type 1 or Type 2 SPD to meet 2020 code requirements.
Use Type 1, 2, and 3 SPDs for the best level of protection.