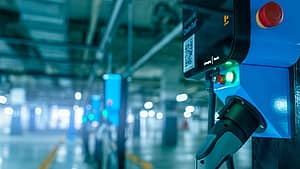 ESFI article, The Electrified Future Has Arrived, was recently published on T&D World's website. Read the article here.
It is the mission of the Electrical Safety Foundation (ESFI) to keep consumers safe as they utilize emerging technology. That includes electric vehicle supply equipment (EVSE). The shift from traditional vehicles to electric vehicles (EVs) has been in progress since the introduction of hybrid vehicles in the early 2000s, but because of initiatives from the government, the transition has become an urgent driving force towards an electrified future. This unavoidable development requires utility fleet managers to be prepared and understand the risks the electrified future may bring.
ESFI recently surveyed EV owners to gauge their understanding of EVs and EVSE, or EV charging stations and chargers. The goal of the survey was to identify safety gaps related to emerging technology to ensure consumers are safe while operating and charging their EVs. The survey focused on residential charging systems, but the safety concerns are universal. Here is a summary of what we discovered.
Electric Shock
The survey results show that over 50% of the electrical systems in homes are not ready for EV charging. Respondents agreed that safety needs to be the top priority when installing and using EVSE. The majority of EV owners – 75% – have not had any charging issues, but 8% have received an electrical shock. Several responses highlighted various safety considerations, from the installation location to the use of certified equipment.
Several respondents stressed the importance of choosing a high-quality charger from a reputable source. There is a clear need for information regarding charging EVs safely. Nearly one-third of owners surveyed did not receive information related to charging before purchasing their EV. ESFI's EV resources can be utilized to ensure consumers have the safety information they need to keep themselves safe. Respondents also stressed the importance of conducting thorough research before purchasing and installing EVSE, as well as hiring a qualified EV installer to complete the installation process. "Older homes may not be able to safely handle EV charging without overloading the home's electrical system," said ESFI President Brett Brenner. "ESFI urges consumers to have a qualified electrician complete an assessment on their ho