In late 2023, the Electrical Safety Foundation surveyed electric vehicle owners to understand their knowledge of electric vehicle charging safety and to understand if the average American home is prepared for EV charging. 
Home EV Charging Survey Results
85% of EV owners have at-home chargers

Over 95% of owners were "satisfied or very satisfied" with their at-home charger installation

65% of electric vehicle owners have to upgrade their electrical panel when installing an electric vehicle charger
63% had a site inspection completed before installing EV chargers
41% had to have maintenance performed on their at-home charger
67% of owners received information about chargers from car dealers
23% of owners had experienced where they were unable to charge their EV because they could not find a compatible charger type
45% purchased an adapter to charge their EV at a different charger type
8% of owners received a shock when charging their EV
Who installed the EV charger:
Electrician: 65%

Contractor: 18%

DIY: 11%

Handyman: 5%
20% of owners had to have charging equipment replaced: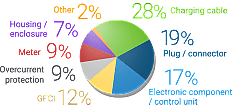 Charging cable: 28%
Plug / connector: 19%
Electronic component / control unit: 17%
GFCI: 12%
Overcurrent protection: 9%
Meter: 9%
Housing / enclosure: 7%
Other: 2%
What Advice about EV Charging would EV Owners Give People Planning to Purchase EVs?
Have EV chargers installed by professionals 
Use certified equipment including chargers and cables
Purchase high-quality chargers from reputable retailers and brands or from manufacturers. Reliability is paramount.
Respondent seem to see home EV charger installation as a positive and worthwhile endeavor if approved with proper research, safety precaution, and professional help.