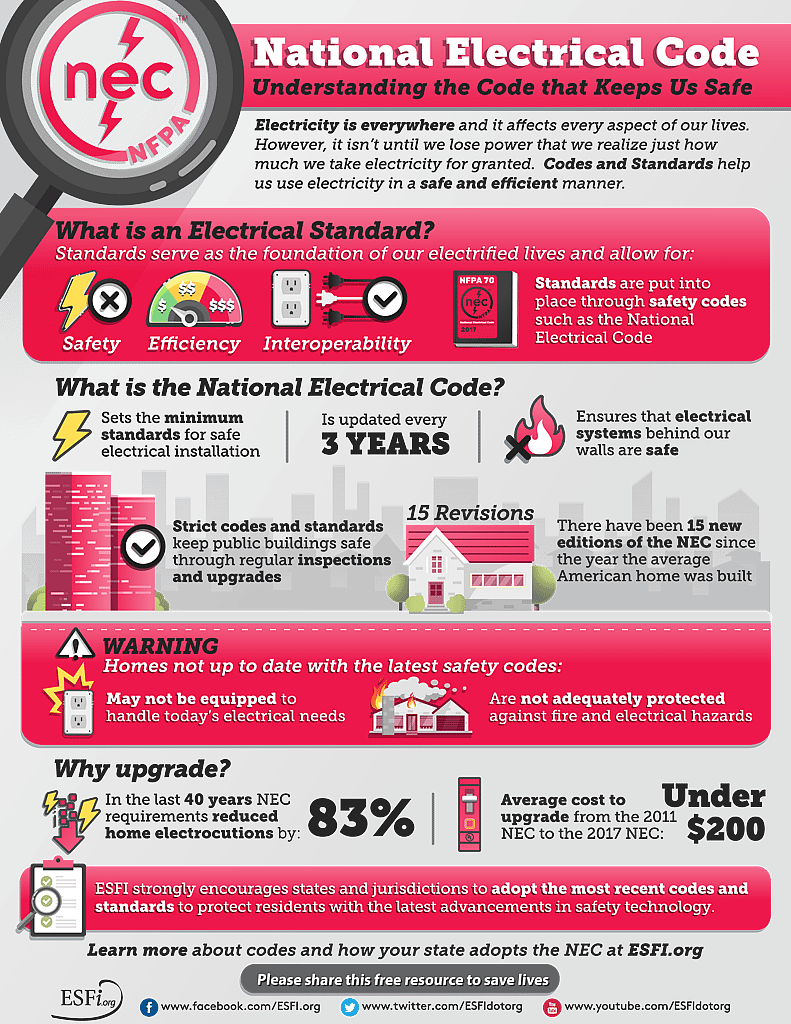 Electricity is everywhere and it affects every aspect of our lives. However, it isn't until we lose power that we realize just how much we take electricity for granted. Codes and Standards help us use electricity in a safe and efficient manner.
What is an Electrical Standard
Standards serve as the foundation of our electrified lives and allow for:
Safety
Efficiency
Interoperability
Standards are put into place through safety codes such as the National Electrical Code.
What is the National Electrical Code?
Sets the minimum standards for safe electrical installation
Is updated every three years
Ensures that electrical systems behind our walls are safe
Strict codes and standards keep public buildings safe through regular inspections and upgrades.
There have been 16 new editions of the NEC since the year the average American home was built.
WARNING: Homes not up to date with the latest safety codes:
May not be equipped to handle today's electrical needs
Are not adequately protected against fire and electrical hazards
Why Upgrade?
In the last 40 years, National Electrical Code requirements reduced home electrocutions by 83%
The average cost to upgrade from the 2011 NEC to the 2017 NEC: Under $200
ESFI strongly encourages states and jurisdictions to adopt the most recent codes and standards to protect residents with the latest advancements in safety technology.